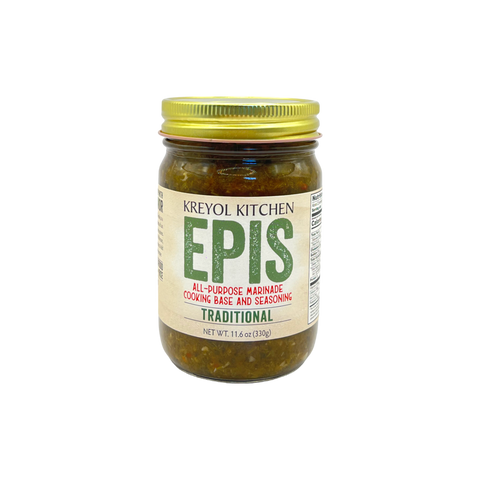 Kreyol Kitchen
EPIS All Purpose Marinade - 11.6 oz
EPIS is a traditional Haitian cooking base consisting of an aromatic blend of vegetables, herbs, and spices. The flavor represents the fusion of African, European, and Native culinary influences. EPIS is added as a first step ingredient for rice, beans, soups, and stews, and also used as an all-purpose marinade for meats, fish, and vegetables. Simplify any meal preparation in just one step!
Low sodium, no preservatives or added sugar

Compatible with most diets (Vegetarian, Vegan, Keto, etc.)

Use EPIS for meats, seafood, vegetables, soups, rice, beans, etc... or eat it straight out of the jar, as a condiment, salsa or dip
Ingredients:Parsley, Diced Vine Ripe Tomatoes, Red Bell Peppers, Spring Onions , Refined Olive Oil, Extra Virgin Olive oil, Organic Lemon Juice, Cider Vinegar, Garlic, Salt, Filtered Water, Habanero Peppers, Cloves, Natural Gum.
11.6 oz (330 g). Refrigerate after opening. Use within 2 weeks of opening for best results.
Checking local availability