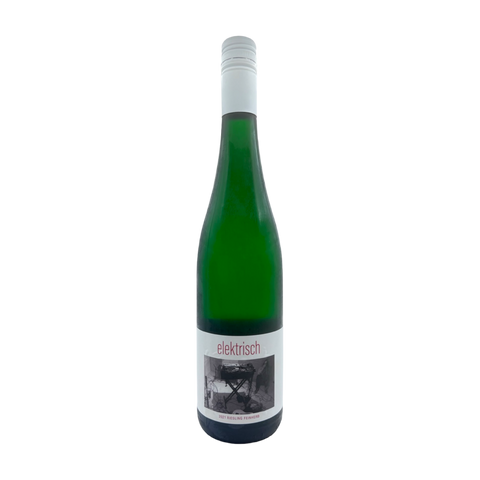 Seehof
Elektrisch Riesling
Florian Fauth is comfortable in his own skin. 
Which is saying something these days for a winemaker in the Rheinhessen. The winemaking landscape here, after all, has undergone a nearly inconceivable, 180-degree sea-change in last two decades.
In one sentence, this region has gone from being the armpit of German wine (remember, this was the land of "Liebfraumilch") to being the white-hot, super star in the spotlight. Winemakers and estates that have been largely ignored for decades, now have people knocking on the door and clamoring for appointments.There is, really, one major reason for this drastic turn of events: Keller.
Klaus Peter Keller is the most famous practitioner of dry German Rieslings and he's from the Rheinhessen. More importantly, Keller currently works vineyards in the Rheinhessen. It's funny: sites that were, only a short time ago, all but unknown to the general public (Abtserde, Kirchspiel, Morstein, etc.) are now mentioned with reverence and awe.
The fact that Keller's wines have achieved jaw-dropping prices has inspired a small cottage industry of critics, media folks and yes, importers, to ask the all-too-obvious question: "Who is the next Keller?"
In this tense atmosphere, it's easy enough to understand the jostling and positioning. It's easy enough to understand the logic of the wines that have grown (in direct relationship to the winemakers' egos?) in alcohol, texture, richness, alcohol… The goal, one sometimes feels, is not great wine; the goal is to be noticed.
Thus in this context, Florian Fauth, who has continued over the last decade to make wines of clarity and balance, has assumed an surprisingly radical stance. Florian's good-natured quality, his ease, his sense of proportion and his firm grip on what's really important: you can see this, you can taste this, in the wines. It's not that the wines don't have ambition – far from it. Rather, it just feels like the wines are content in being really good, or in being great, or in being whatever it is they are… without having to shout about it.
What makes this all the more impressive and confusing and interesting is the fact that Florian's sister is Julia Keller, which makes Klaus Peter Keller his brother-in-law. Seehof is only about a 10-minute drive from Keller; Seehof holds a good number of parcels in some of the aforementioned hallowed vineyards, including Kirchspiel and Morstein. (We know you can't read the map below, but it's one of the cooler breakdowns of the vineyards around Westhofen and Flörsheim-Dalsheim. Trust us.)
For the wines of the Rheinhessen, the key is limestone. This is what gives the wines their glycerin-induced sexiness. This is also what gives them the flair of acidity, a presence strong enough to counter the lavish extract and to keep the wines from feeling gooey or too heavy. It's a delicate balance, to be honest, but when you nail it… well, it's impressive.
At this moment I don't know of an estate that makes a more profound "basic" estate wine than Florian at Seehof. The wines, both the dry and off-dry, are crystalline and pure with buoyant fruit and plenty of energy. For the money, you just can't find anything better.
While Seehof's Morstein "R" Weissburgunder (Pinot Blanc) delivers everything, everything you'd want from this profound vineyard, the Riesling Steingrube is a tour-de-force of minerals and acidity.
Florian Fauth is not the next Keller – he's family. The more interesting question, anyway, is where are the hidden, as-of-yet-overlooked vineyards…  Steingrube would be up there.
Wine Notes: "Elektrisch" translates to, yup you guessed it, electric - and that's how we like our Kabinetts. Which is to say, lighter, more delicate, less sweet and more acid-driven than a lot of the Kabinetts on the market, which are really little more than de-classified Spätlese. In our opinion, that's like taking a stick of butter and calling it mineral water. The "Elektrisch" is made by Florian Fauth of Weingut Seehof and is mostly (in 2019 about 70%) sourced from the estates' holdings. While the leaner price might suggest lower quality fruit, that's really not the case. With the 2019 vintage, most of the fruit comes from the Aulerde, one of the Grand Cru sites of Westhofen. Both Klaus Peter Keller, Florian's brother-in-law, and Philip Wittmann farm parcels in the Aulerde: this vineyard is the real deal. Roughly 30% of the fruit is not "sourced," in the generic and dirty-sounding way that word is often used, but rather bought from Florian's good friends in the village. The 2019 is, as one might gather from the vintage of which Keller has written, "...one of the best vintages of the last 20 years," AWESOME. It is electric with vivid and mouth watering granny smith apple and citrus and a live-wire of minerality and acidity nearly pulsating through it. For those of you who like the numbers: the mere 36 grams of residual sugar is easily countered and lifted by 7.4 grams of acidity. This is not only a true Kabinett, it is an "electric Kabinett."