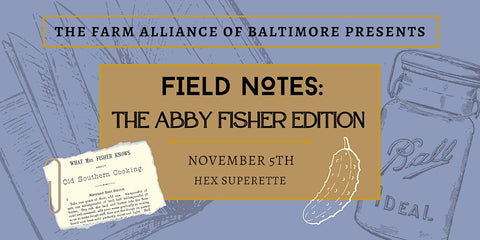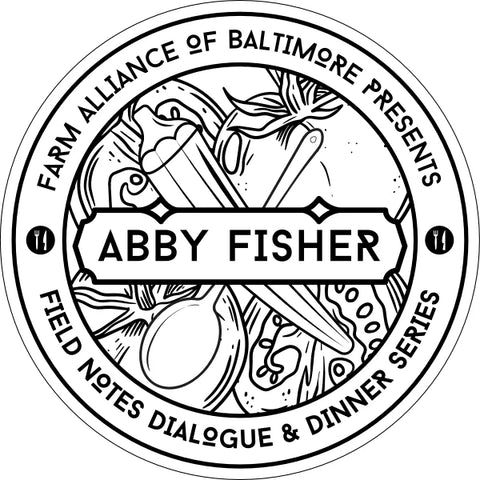 Field Notes: The Abby Fisher Edition
November 05, 2023
4:00 pm - 9:00 pm
HEX Superette, 5718 York Rd, Baltimore, MD 21212

The Farm Alliance of Baltimore invites you to our final 'Field Notes Dinner & Dialogue Series' of the year.
For our final dinner, we're celebrating Abby Fisher, one of the first Black cookbook authors in America. Deb Freeman, writer and host of the award winning Setting the Table podcast, will lead a lively dialogue, while chef Cieara Adams will cook up a family style dinner.
Hosted at HEX Superette, the inspired menu will pair Black Maryland comfort food with Fisher's specialties: pickles and preserves. Each dinner guest will receive a complimentary letterpress recipe card and customized coaster to take home.
Cocktail hour features 2 hours of live jazz from the Brandon Woody trio with snacks prepared by HEX Superette.
The evening also features a silent auction, with a specially commissioned portrait from celebrated artist Pierre Bennu and photographs from the archives of renowned photographer I. Henry Phillips Sr.
The Dinner & Dialogue series directly supports the work of the Farm Alliance to build an urban agriculture movement in Baltimore City.
* this event is 21 and over