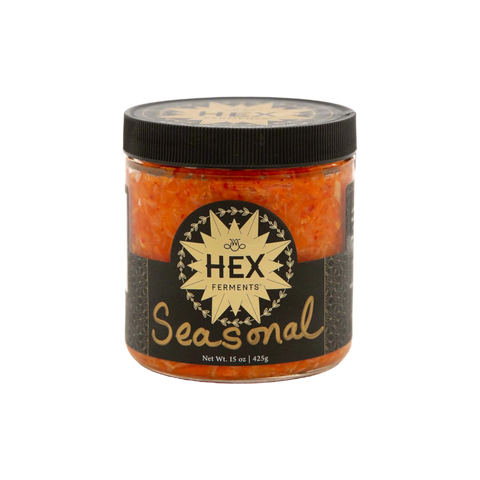 HEX Ferments
Seasonal Veggie
Our seasonal offerings rotate between unique Sauerkrauts, Kimchis, Pickles, Collaborations with Farms, Experiments, Inspirations, and more!
Currently:
One Rad Kimchi
Daikon Radish*, Green Cabbage*, Onions*, Garlic*, Ginger*, Red Pepper, Fair Trade Cane Sugar*, Unrefined Sea Salt.
Flavor Profile: Aged to perfection (120+ days), this kimchi is made primarily with local organic daikon radish. Mild heat, very savory, excellent with soft cheeses, mixed into rice or noodles. Highly addictive...Snag a jar of this kimchi before it's gone!
Pickle Relish
Cucumbers*, Garlic*, Pickling spices*, Dill*, Sweet Peppers, Unrefined Sea Salt.
Flavor Profile: Our Harmonie Sour pickles made into relish! Full sour pickles with traditional pickling spices, garlic, fresh dill and new this year Sweet Peppers from Good Dog Farm - this mild relish is perfect for hot dogs, sandwiches, tuna salad, egg salad, chicken salad, potato salad basically anywhere you need a sour kick!
Phoenix Kimchi
Green Cabbage*, Carrots*, Hot Peppers*, Onions*, Garlic*, Red Pepper, Shiitake Powder*, Sesame Seeds*Unrefined Sea Salt. *Organic Ingredients
Flavor Profile: Just like a phoenix this kimchi will resurrect  you, spicier than our Miso Kimchi, with sesame seeds and powdered shiitake for the ultimate umami bomb. Elevate your mac n' cheese, ramen or just plain rice.
Upcoming:  Solar Kraut
*Organic Ingredients