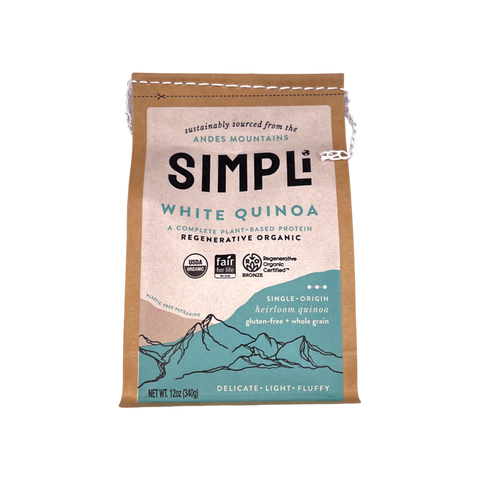 SIMPLi
Quinoa - White / 12 oz
SIMPLi's award winning Regenerative Organic Certified™ (ROC™) Tri-Color Quinoa will transport your palette to Peru.
SIMPLi is the first South American ingredients brand to achieve ROC™ for its quinoa and beans. Combining the best practices of Certified Organic and Certified Fair Trade, the ROC™ is a new certification for businesses and products that meet the highest standards in the world for their three pillars: soil health, animal welfare, and farmworker and social fairness. SIMPLi works with farmers who are already implementing agricultural practices that meet 90% of the ROC™ standards and works closely with them to provide the education and finances to reach 100%.
SIMPLi Quinoa is sourced directly from farming communities in Andahuaylas in the Apurímac Region, Ayacucho in the Huamanga Province, and from the Andes mountains by Lake Titicaca in the Puno Region of Peru. SIMPLi's vertical supply chain eliminates the middlemen to shift value back to farmers and ensure consumers receive the exact single-origin ingredient they purchased. Peru's agricultural communities harvest nutritious and flavorful quinoa, and SIMPLi brings it straight to your plate.